Military Leadership Officers Awards Board
An oak honours board with hockey stick framing made for the 1st Battallion of the Welsh Guards.
This oak veneered honours board is 1200mm high X 650mm wide and displays the names of those achieving the Commanding Officers Leadership Code Award.


The regimental crest has been produced using dye sublimation printing and should remain colour fast and fade free for fifty years or more.
Our boards are not cheap but if think long term and consider that a board like this should last for 50 to 100 years
and you won't have to replace it in 5 to 10 years time, then our honour boards start to appear as very good value for money.
To achieve this we use only the best quality materials and the maximum amount of effort, there are no shortcuts!




The framing used is known as Hockey Stick, this is a timber moulding profile that entirely covers the return edge of the board
and overlaps the face of the honours board by about 4mm, the overall thickness of the profile is 8mm.

This is the lowest cost method of framing an honours board but can still be very effective and pleasing to the eye.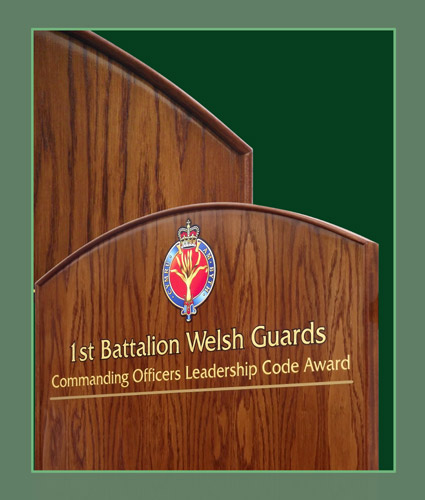 Hockey Stick Moulding to Frame a Curved Honours Board
The cost of framing is usually more labour than materials especially with hockey stick mouldings applied to a curved board.
The straight sections are glued and pinned in place quite quickly with air fed nail guns,
the nails are punched below the surface of the timber moulding, the resulting hole or indent is then filled,
sanded and stained, resulting in an invisible fixing.

The curved top edge provides a much greater challenge.
Even with a timber moulding as narrow as this, the fibres of the wood are desperate to return to where they are happiest,
which is in a straight line, they don't want to bend and conform to a curved shape, force is required.
The curved frame of the honours board is drilled and countersunk to accept up to twenty wood screws,
glue is then applied and spread evenly along the hockey stick moulding, the piece is positioned and the first two screws
are inserted and the first diagonal clamp is positioned and tightened.
The biggest problem is moving quickly enough before the glue begins to set and loses its' adhesive power.
The remaining screws are then driven home, forcing the timber into position and the second diagonal clamp is positioned and tightened.
Twenty four hours elapses before the clamps are released and, you hope, the curved frame remains firmly in position
where you hope that it will stay for the next fifty to one hundred years.