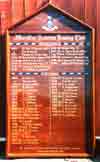 Gilded Signwriting on Oak Veneer
Gilded signwriting on an oak veneered honours board for Mumbles Rowing Club.
We can produce honours boards to any size or specification plus some that you've never thought of.
Materials used for honours boards include timber veneered finishes, faux painted marble finishes, aluminium, stainless steel, perspex, slate, marble and granite. Lettering can be hand painted, self adhesive, spray applied or sand blasted.
Signwriting and Gilding on Aluminium & Teak Pub Sign
Traditional signwriting, painting and gilding on an aluminium sign board, framed in teak.